Iceland – Winter
It was 6am when we landed in Iceland, and snow was falling, covering the ground with a light, white dusting. We made it through customs and shopped for some beer before we found our car rental company. Even though it was snowing out, the guys were wearing shorts and tshirts. We followed them and inspected our car. It was a little manual hatchback with studded tires in case the roads were slippery. This ended up not being an issue, but it helped with my peace of mind.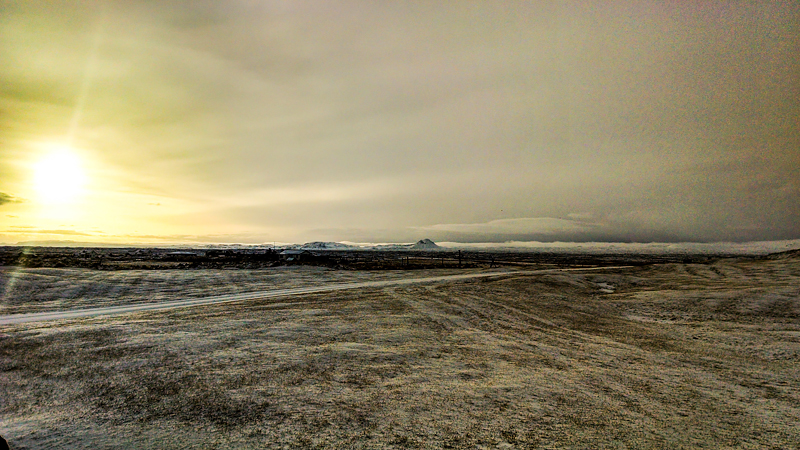 Anthony hadn't driven a manual transmission since he was 16, but he assured me he would catch on quickly. Maybe he did, but not quick enough to make me feel safe riding with him through a mountainous, foreign country. He went from killing it every two feet to only killing it when he stopped and needed to start again. Progress. We went on our way to find our rental home, about 20 minutes outside of Reykjavik. It was a beautiful home in the countryside, right along the coast. We went exploring some smaller suburbs of the big city, which turned out to be very busy with roundabouts seemingly every 10 feet. We made it through and decided to stick to the highway around the Reykjanes peninsula after that.
The landscape of the peninsula was all black lava rock. There were fissures in the ground, and small, rounded mountains here and there. We would stop the car to get out and walk around the lava-scarred landscape. Eventually, we discovered a stopping point that turned out to be the "Bridge Between Two Continents". The bridge went over a large fissure in the ground, connecting Europe to America. We cooked some spaghetti that evening, and then relaxed in the hot tub, hoping the Northern Lights would make an appearance. When they never did, we went to bed.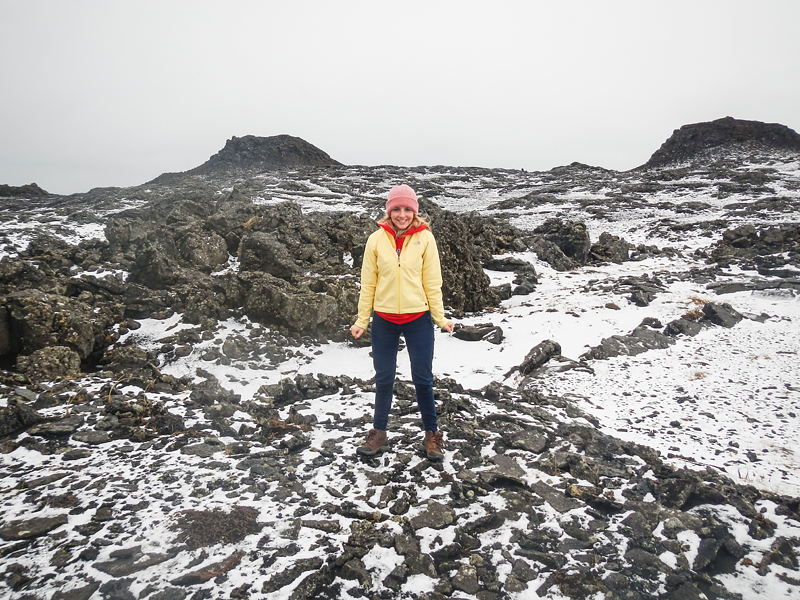 The next day we went into the capital to explore. After a few near heart attacks with the car ride, we got to Hallgrímskirkja, a church at the edge of downtown with the best views of the city. We paid the fee to go up to the bell tower and looked over Reykjavik.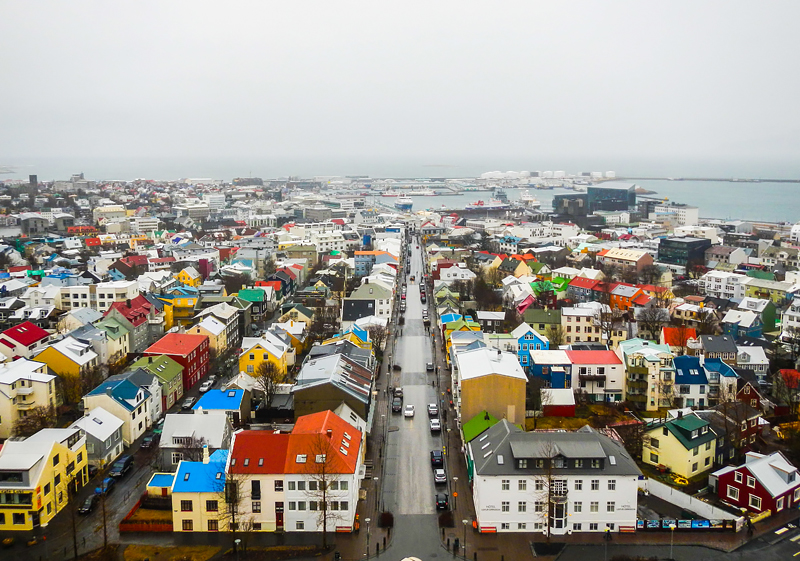 After awhile, we headed back out to walk the main streets. The wind was unbelievable. I am not a heavy person, so the force of it kept blowing me backwards. Once we got between the buildings, though, we were good to go. We stopped in some shops, ate lunch at a cozy restaurant, and generally looked like tourists, snapping pictures of things we thought were funny, such as the sign for the Penis Museum, or the Chuck Norris Grill.
We headed back to the house to fix dinner and get ready for the Blue Lagoon. We had debated going because it was not cheap by any means, and we thought we might enjoy some of the local "pools" or the natural hot springs more. After awhile, we realized "We can't come to Iceland and not go to the Blue Lagoon!", so we grabbed our swimsuits and headed out.
It was an extremely misty and windy evening, but the milky blue water still stood in great contrast to the black volcanic rocks around it. Iceland is a very hygienic country, and you are required to bathe naked before getting in the water. A lot of people have a problem with this, but I'm not terribly shy about my body, so I stripped down and headed to the shower, making sure to leave a lot of conditioner in my hair, as I had read that the silica water completely dries it out.
I hopped into my suit and met up with Anthony outside the locker rooms. The water was probably about 20 feet from the door, and we would have to stop to hang up our towels before getting in. We braced ourselves and ran for it, freezing the whole way.
Once we got in the water, we were all smiles. We wandered around finding warmer and warmer spots, as well as finding some silica mud to put on our faces for some classic selfies.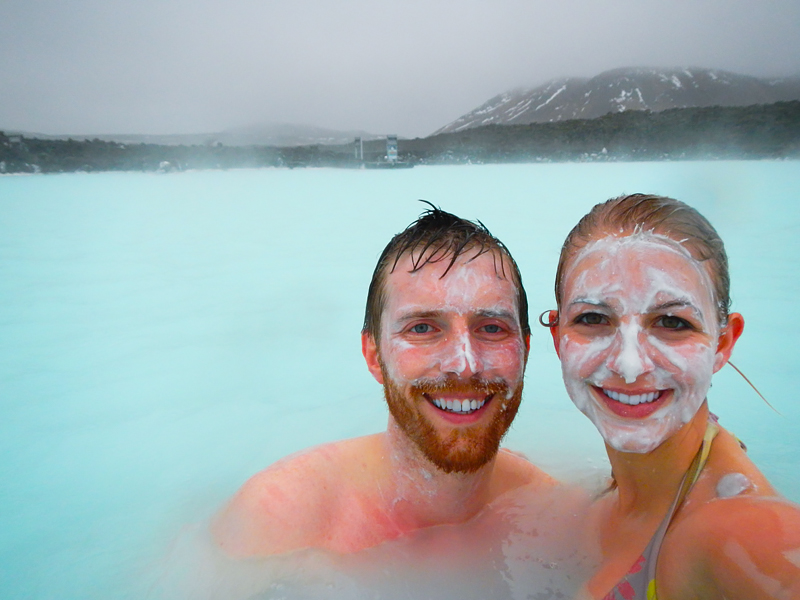 While it wasn't our favorite part of the trip, we were happy we went. It was pretty obvious while we were there that if you wanted to really spend some money, you could make an awesome day out of it, going to the spa and getting a massage, and enjoying the nice restaurants overlooking the lagoon. Maybe someday when we're rich and want to head back to Iceland, we'll do that.
The next day was Golden Circle day. We got up nice and early and went on our way to Þingvellir National Park. The views on the drive were breathtaking, making the black lava fields on the Reykjanes peninsula seem absolutely boring in comparison. We kept climbing higher up in altitude and white snow surrounded us with beautiful mountains and lakes providing gorgeous vistas. We stopped every chance we got to take pictures.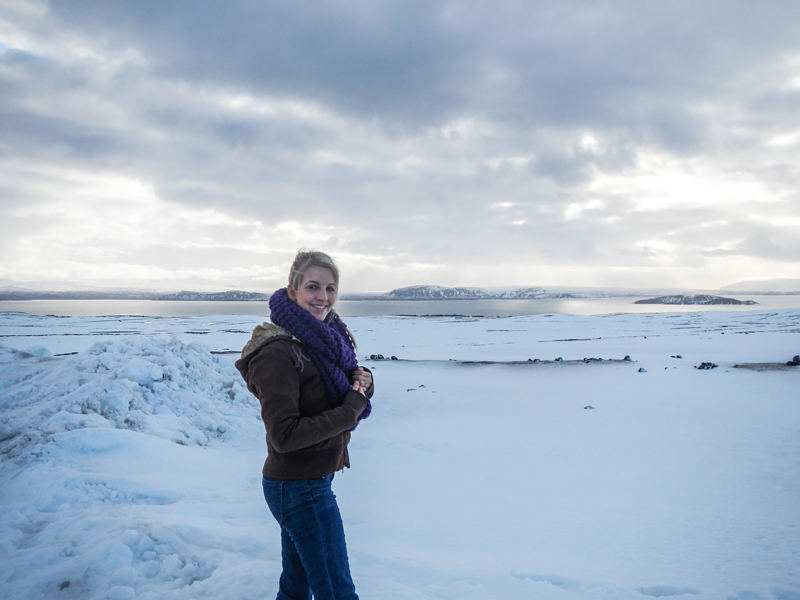 We got to the park, read up on the history, and explored the area for a bit. We slid our way down the ice to get to a bridge with even more views. The park was stunningly beautiful in the snow, and probably as beautiful in the green summer months.
It was time to move on, so we went a little further down the road and met up with our snorkeling guide. You read that right. We went snorkeling in Iceland. Our guide, a friendly man from Poland, took us to the entrance to Silfra, the rift between the North American and Eurasian continental plates. It took an hour to get all of our gear on, at which point breathing was a bit more difficult. As was walking. Especially with our flippers on. We got to the ladder and climbed down. The water was 2 degrees Celsius, but we couldn't feel it through our suits. We could feel it through our gloves and on our bare faces though, which quickly grew numb. The views under the water were breathtaking though.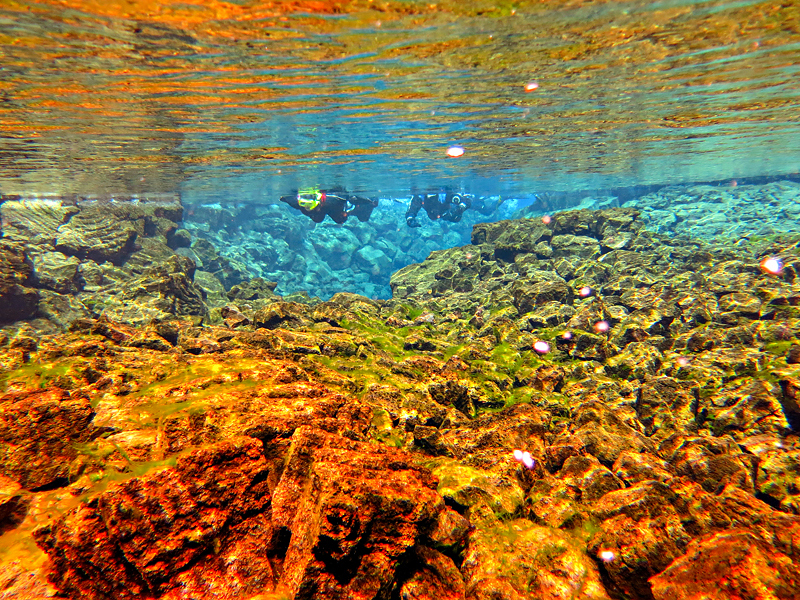 There were various shades of blue and green everywhere we looked, and we could see for 200 meters in front of us. The water was so clear. Snorkeling took close to 45 minutes. When we hopped in the sun was shining and the skies were perfectly clear. By the time we popped our heads back out at the end, it was blizzard conditions. Welcome to Iceland. We walked back to the vehicles, in our flippers, and drank some hot chocolate and ate some cookies. The weather started clearing off again, so we left for stop # 2- The Great Geysir.
This stop actually had two big geysers, Strokkur, which erupted about every 5 minutes, and then the Great Geysir, for which all geysers are named. The Great Geysir can spew boiling water as high as 70 meters. However, it is quite unpredictable and only sat simmering for us.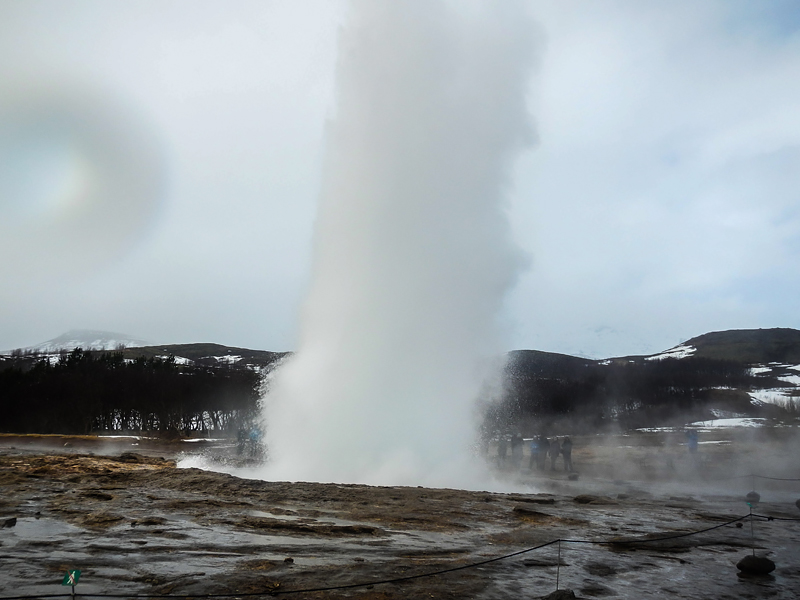 We left to drive to our final destination on the Golden Circle. We arrived at Gullfoss right as dark storm clouds were approaching. We hurried along the path against the wind until we had the perfect view, looking down on the most beautiful, blue and powerful waterfall. We snapped some pictures and then started hiking down to get closer to it.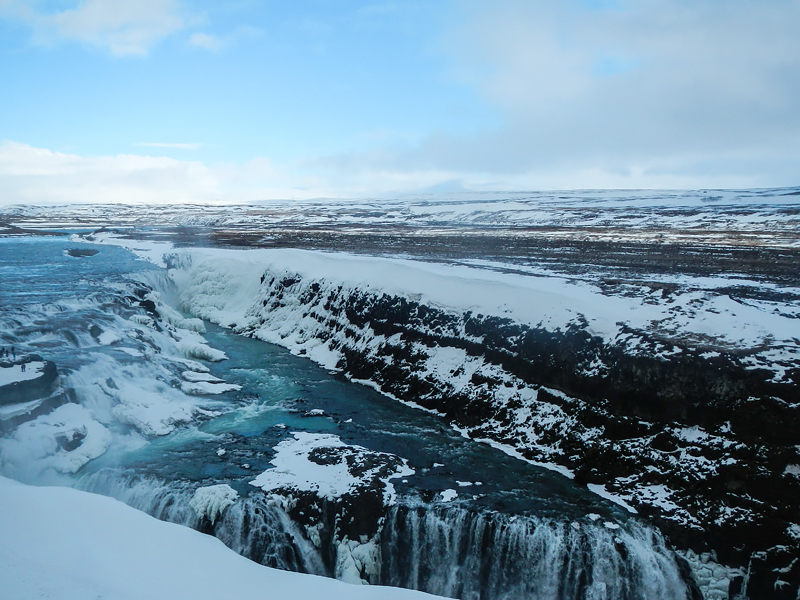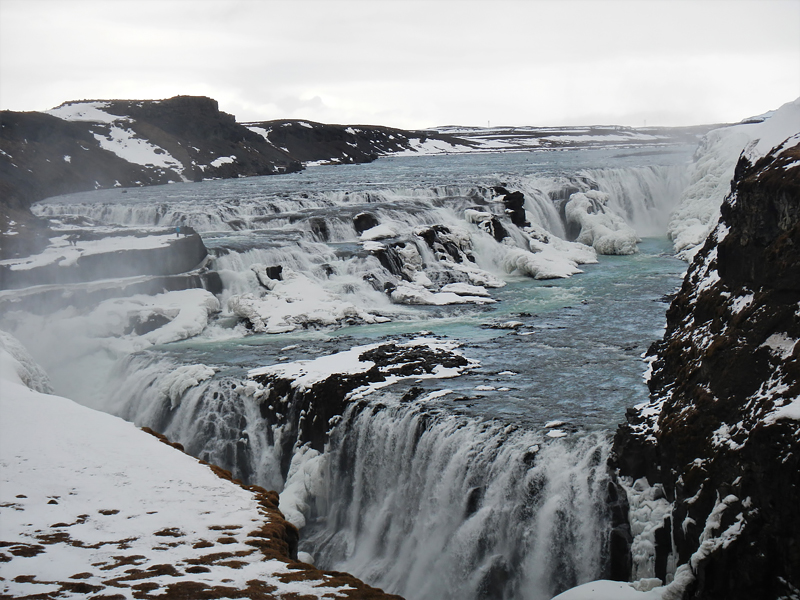 There was an icy, snowy ledge that was roped off to keep people from walking along, but everyone climbed right over to walk down the path. We followed suit and made it right next to the top of the waterfall, feeling it spray our faces. After one picture, we realized our camera battery was dying. Anthony turned around and made the trek back to the car to get our extra battery, while I stood there soaking it all in. The storm had already come and passed once again, so the sun helped keep me warm despite the cold water hitting me. Anthony made it back about a half hour later, and we took some pictures and hung out until we saw more clouds coming our way. Finally, we decided it was time to move on and head back to our house.
We spent another evening in our hot tub, hoping the northern lights would appear to no avail. That night, a crazy storm blew in. We had plans to visit Snæfellsnes peninsula the next day, but the wind was insane and the rain was coming down hard. We decided it would be a wasted day, and slept in instead. With our free day, we went back into Reykjavik and wandered around town, stopping to explore some shops and eat some food. We walked along the bay, watching the birds. Reykjavik is really a neat, and super clean city. I am certainly not used to seeing cities like it in the US.
The following day, we got up nice and early to finish packing, and we went on our way to drive along the south coast. It was our first morning with clear skies. We had views of snowy mountains on one side, and a vast valley on the other. We stopped pretty shortly to get gas, and then decided to explore the town a bit before driving on. I am so happy we did. It was a geothermal little town with interwoven hiking trails along a bubbling river and several hot springs. We hiked for quite awhile, until my nose was red and numb and runny. It was a fantastic way to start out the day.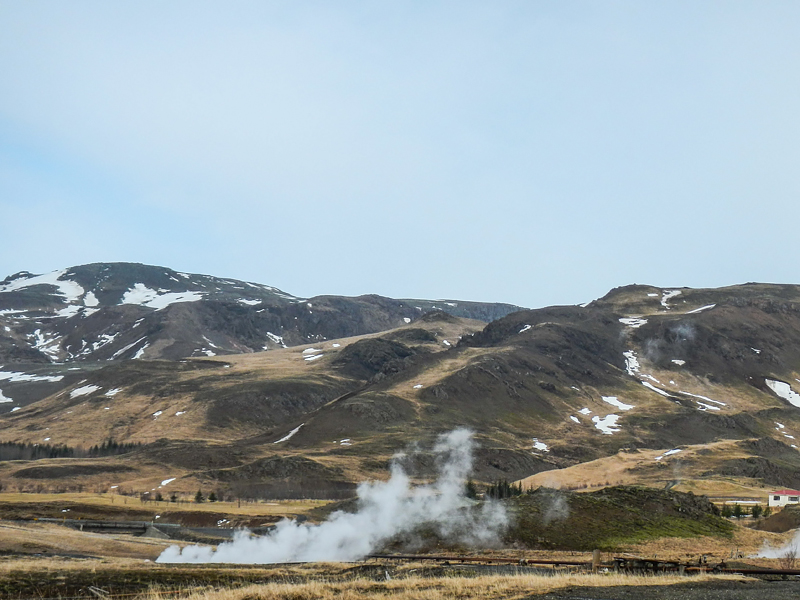 We moved on, seeing lumpy fields with beautiful Icelandic horses, black lava rocks, white mountains, clear rapid rivers, and vast open valleys at the foot of more mountains. We finally saw a tall waterfall in the distance and decided to get as close as possible to get pictures. Lo and behold, it was Seljalandsfoss, which turned out to be my favorite place in all of Iceland. There were some smaller waterfalls along the trail, so we checked them out first, saving Seljalandsfoss for last. When we got there, no one else was there. There was a path to walk behind it, so I wasted no time. I stood there behind it, staring at it and letting the spray hit my face for I don't know how long. I wished I had a picnic basket to sit down there, eat, and enjoy the rest of my day. We still had a lot of driving left though, so Anthony finally pulled me away.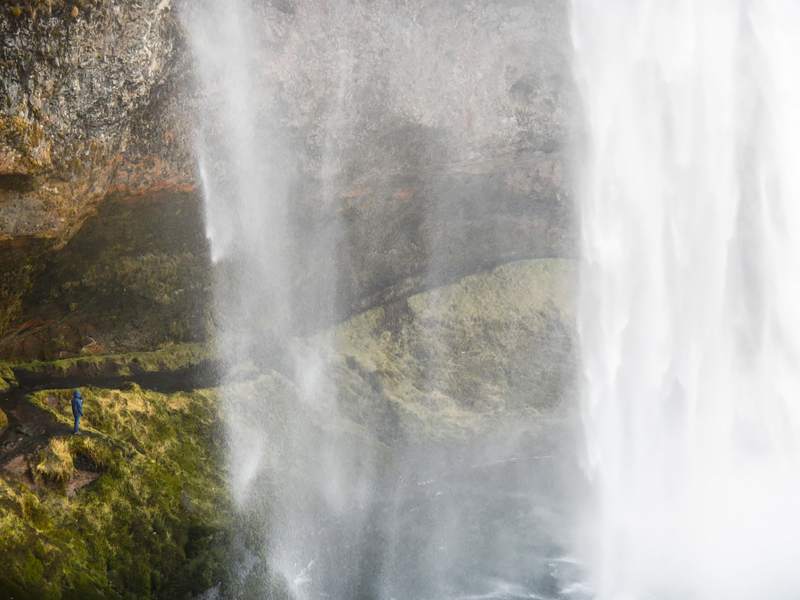 Not much further down the road was Skógafoss, another waterfall perfectly visible from the road. We turned in. It was a tall and simple waterfall. There were steps to get to the top of it, so we started our hike up. We had to stop multiple times to catch our breath before making it all the way up. But then we realized there was even more area we could explore, so we just kept on hiking until we were on top of the world.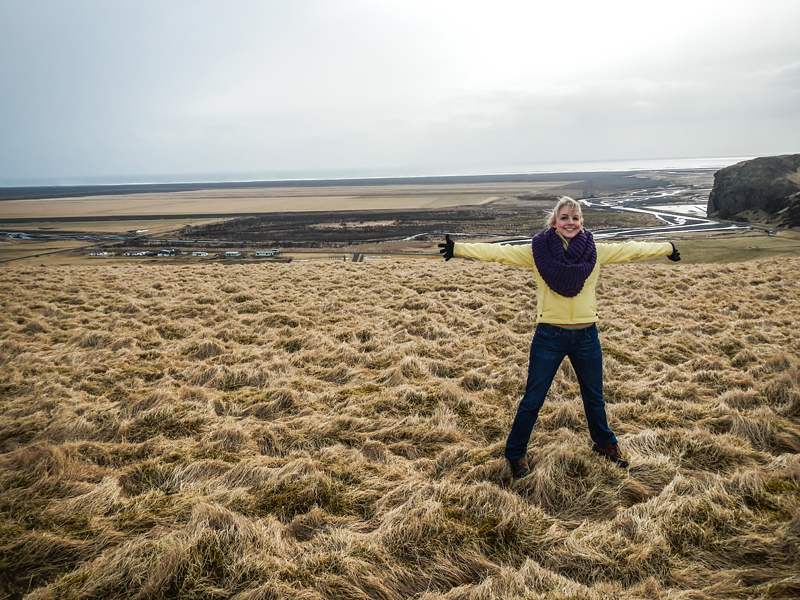 I felt amazing. I wanted a repeat of this day every day. But we weren't done yet. We kept on driving until we found the working farm we would be staying in Vík, the southern point of Iceland. We met our host and checked in, and he gave us some advice on where we should explore. We took his advice and hopped back in the car to drive up to Dyrhólaey, a nature reserve set up on a small peninsula jutting out above the violent ocean waves below. The cliffs shook slightly every time a big wave crashed into them.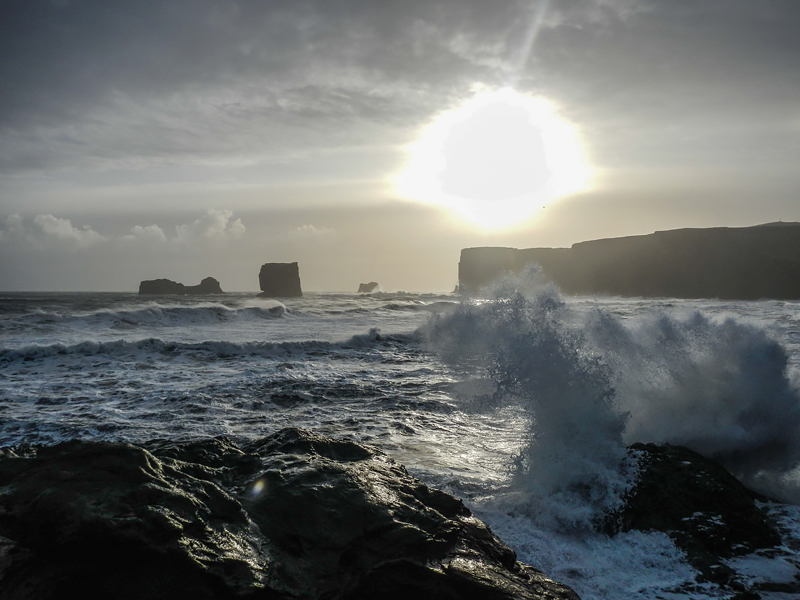 It was mesmerizing, but there was a lighthouse a bit further up in the distance, so we got back in the car, found a road that said "Impassable", ignored it, and drove the steep windy road up. We had found the lighthouse, but more than that, we could see miles and miles of black sand beaches below us.  After staring at them for awhile, we decided we wanted to walk on them as well, so we drove back down, found somewhere to park, and walked along the beach, while waves left lines of white foam and the sun set.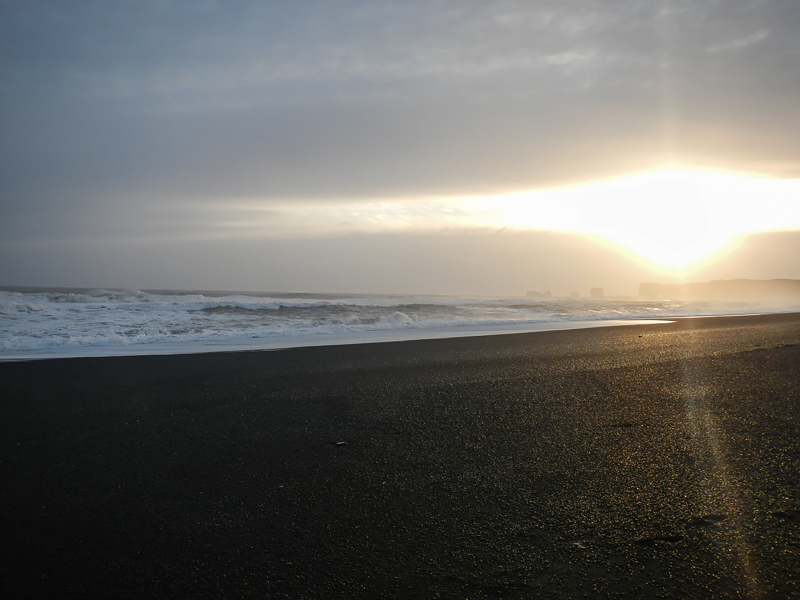 After a delicious home-cooked breakfast of smoked salmon, various cheeses, vegetables, and eggs, we went on our journey to Skaftafell National Park to hike a glacier. Once we got suited in our crampons, we stomped on out over the ice. The views of the ice sweating under the sun, and the snowcapped mountains surrounding it, were some of our favorites in Iceland. Walking in crampons took a little getting used to, but before we knew it, we were hopping over crevices and climbing up inclines. We had almost cancelled this tour, but we were very happy that we didn't.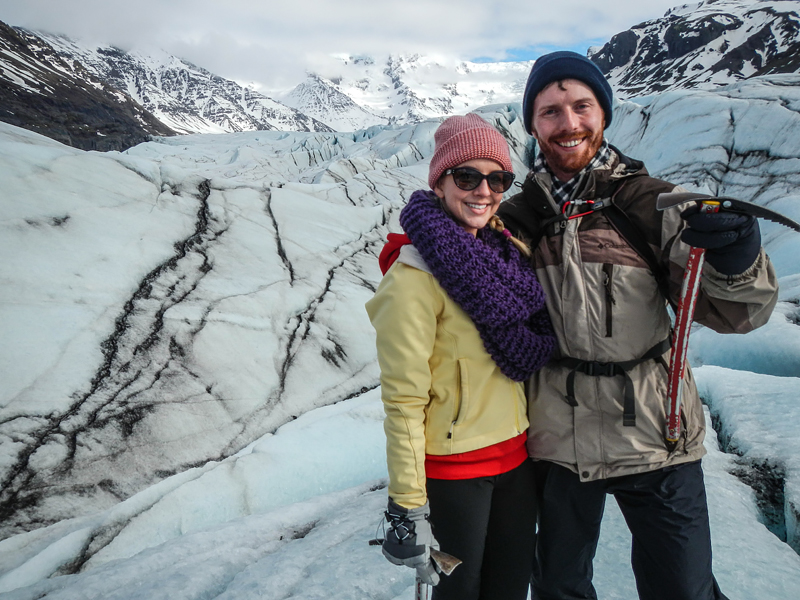 Afterward, we explored the park, hiking up to Svartifoss, a waterfall in front of black basalt columns. The sun was beating down on us, and by the time we reached the top, we had to peel off some layers because we were sweating. In Iceland. In March.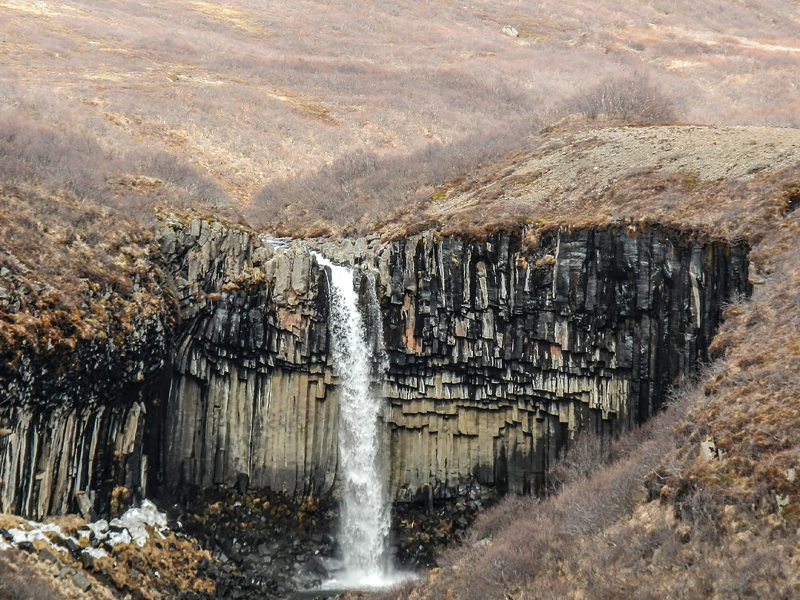 We still had more adventures ahead of us, so we had some red bull, cheese, and bread (lunch of champions), and drove further along the coast to Jökulsárlón, the glacier lagoon. The ice floated in the water, creaking as they collided with each other. Across the road from the lagoon was another black sand beach, with pieces of ice and mini glaciers ashore, standing in great contrast to the sand. We spent some time here, relaxing and breathing in the crisp air.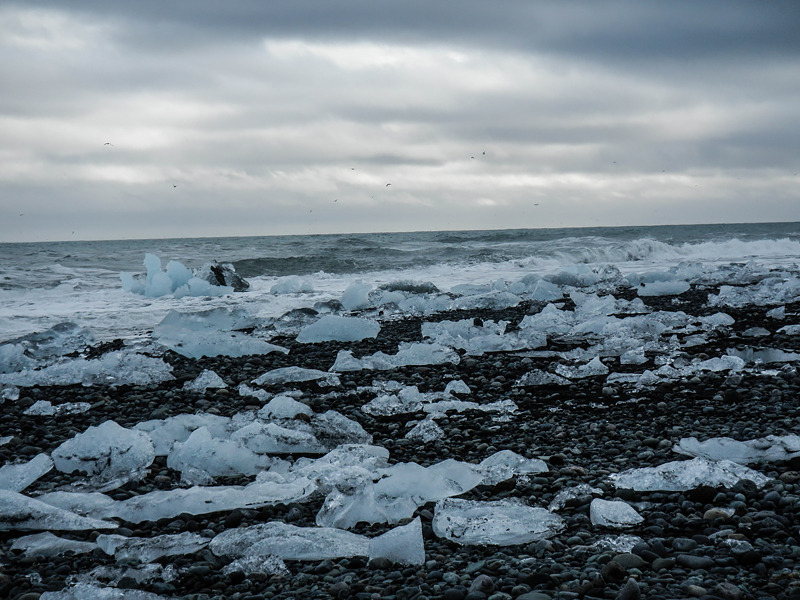 Finally, we started back to Vík and stopped at a restaurant up above the town with views of the ocean while we ate some fantastic soup and bread. We spent most of the evening chatting with the other two guests at the farm and our host. The following morning, we had another beautifully-prepared and yummy breakfast and finished packing up our stuff. Our flight back home was not until late that afternoon, so we planned on making a few stops on the way.
The first stop we made was in a valley, with a river flowing through it and small waterfalls cascading down the sides of the mountains. We hiked along the river until we reached the end, where a natural hot spring fed pool was found. We stripped down and changed into our swimsuits and hopped in. Nothing makes you feel more alive than getting naked in 40 degree weather in the middle of nowhere, surrounded by beautiful nature.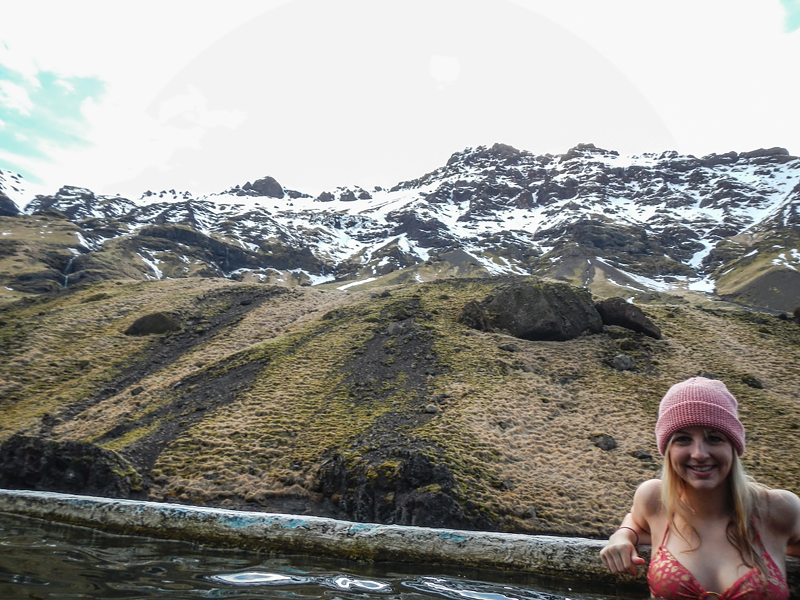 I had read about another natural hot spring in Flúðir, not far from Reykjavik, so we made a detour to check it out. It took some searching, but we saw a few parking spots out in the middle of what seemed like nowhere, so we gave it a shot. We walked over the hill and saw some water… but it was freezing. We walked over another hill, and there it was! A beautiful natural hot spring. We changed back into our cold, wet swimsuits, and spent too much time sitting in the hot water, enjoying the beautiful scenery.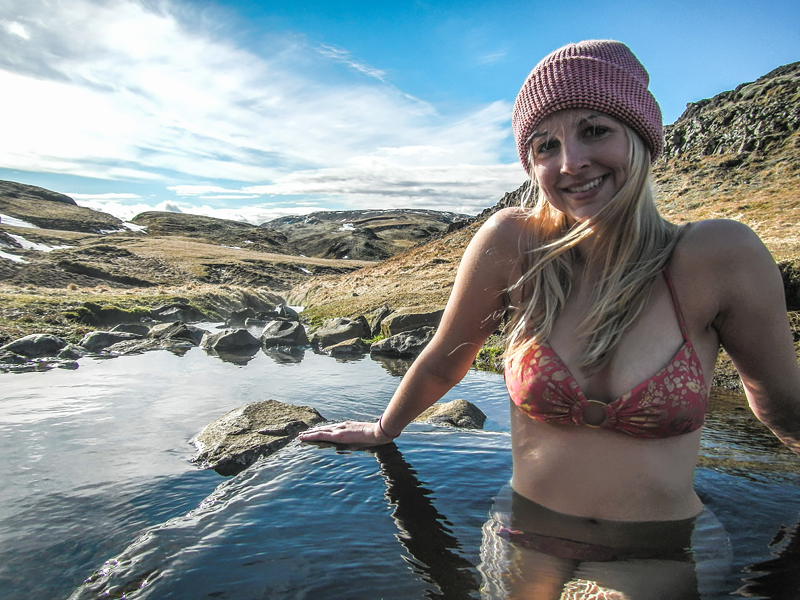 We checked the time, and raced to put our clothes back on and get on the road. We got a little bit lost on the way back to the airport, which didn't help my feeling that we were going to be late, but alas, we made it, and got on the plane with no incident. We left Iceland exhausted, but ready to go back.